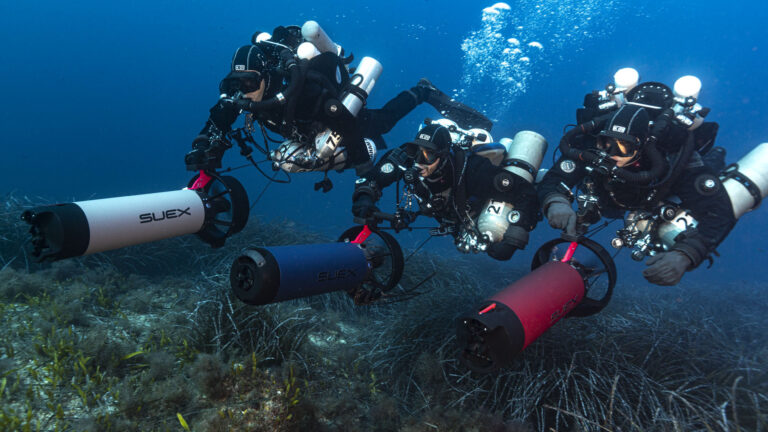 SUEX has always been committed to continually improving our DPVs, so we can keep surprising and enthralling divers worldwide.
The primary focus of SUEX research is technical innovation, with a view to improving performance and making every dive safer: the important results obtained represent a solid basis for achieving increasingly ambitious goals.
The technical aspects, however, are not neglecting the aesthetic and SUEX also places the same importance on the design.
On the one hand, the precise and clean lines characterize SUEX DPVs, promoting unfettered performance. Thanks to these features SUEX DPVs are very fluid dynamic and stand out for their refined timeless design.
On the other, SUEX DPVs allow color customization of XK, XJ-S and XJ-T models, ensuring a highly desirable aesthetic in the underwater environment. As an alternative to the classic Jet Black, the three models mentioned can in fact be purchased in three color variants (Moon Grey, Earth Blue, and Mars Red). The name choice is inspired by the wonders of our solar system.
SUEX has proposed the customization of the color to allow the diver to choose, but also to be able to distinguish. The SUEX DPV colors also allow you to stand out in any photographs or films, just for the peculiarity and the quality of the colors proposed.
Despite being a predominantly aesthetic element, SUEX has invested its technical expertise and the utmost care in identifying the process of color application, to maintain the high-quality standards of the brand.
The specific staining treatment was confirmed only after several tests carried out under extreme conditions and using the due time to make all the necessary checks. The result ensures that no halos form and that the color will last a long time without deteriorating. In addition, the sandblasted finish allows a better grip and handling in any situation.
In more detail, SUEX has identified a selection of particularly resistant paints that allow excellent performance over time. Despite the possible wear due to the number of dives or transport and storage. The paints used, therefore, have an excellent effect both on the aesthetic and functional levels.
The SUEX proposal combines functionality with aesthetics, enabling the diver to live the experience utterly!