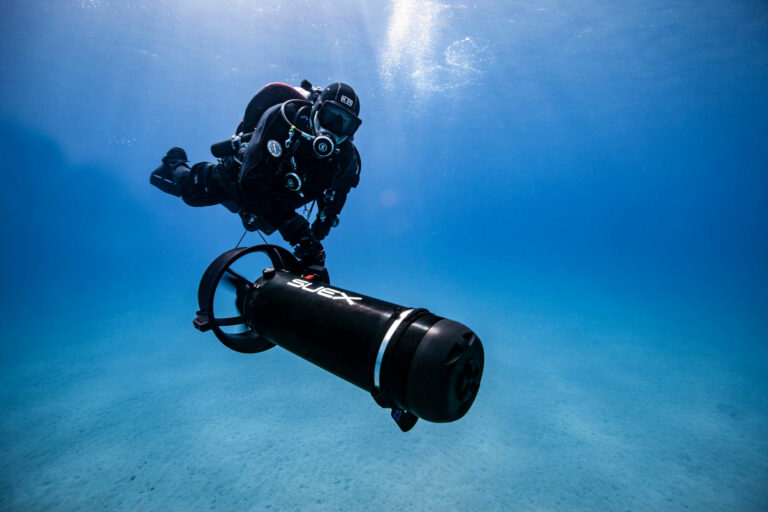 When designing and producing an underwater scooter, it is important to carefully consider the impact every decision made will have on the quality of the end product, achieving a perfect balance between performance and durability.
SUEX is able to achieve this result thanks to the decades of experience of its engineers, its constant research and development efforts, on-going collaboration with expert divers and stringent testing procedures.
One of the aspects that has the biggest impact on DPV performance is the choice of the material for the body of the scooter: it must be light yet resistant, able to withstand underwater pressure and salt water.
To respond to these needs, SUEX has chosen to produce its sea scooters using two types of materials, depending on the model: technopolymers and aluminium alloy.
Technopolymers are a macro-group of polymers with distinctive physical and mechanical characteristics that make them a valid alternative to metals.
Depending on the technopolymer considered, it is possible to observe excellent tenacity, workability, resistance to temperatures and static and dynamic loads. These qualities make them suitable for use in a wide variety of applications, including highly technical applications and in the presence of severe environmental conditions.
Specifically, SUEX uses polycarbonate to make the body of its DPV scooters 7Seven, VRT and VRX, offering an excellent balance of performance and weight, for dives of up to 80 (7Seven) and 100 (VRT and VRX) metres.
Among technopolymers, polycarbonates stand out for their tenacity and resistance to rupture under stress, and more in general, for their impressive mechanical properties.
They are also characterised by good workability, especially for moulding, and their resistance to a variety of environmental factors and mechanical stress.
Aluminium alloy, on the other hand, combines all the best properties of metals with reduced weight, making it suitable for numerous high-performance applications.
The specific aluminium alloys used, duly protected with military-grade anodising coating, offer excellent corrosion resistance; aluminium is non-magnetic, making it suitable for use where electronic devices and electromagnetic waves are present.
SUEX uses a special aluminium ally for the body of the DPV models XJT, XJS e XK, guaranteeing high levels of resistance with a low weight, for reaching depths of up to 200 metres.
For over 20 years, SUEX has been developing and producing underwater scooters, paying close attention to product quality and always identifying new solutions to improve the performance, resistance and safety of its products.