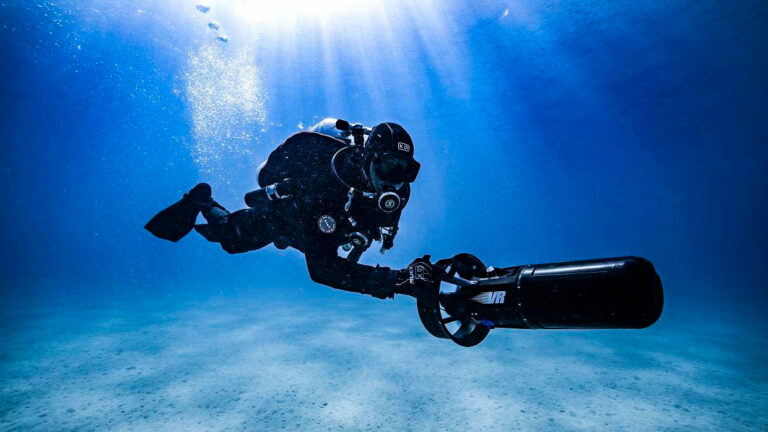 The battery is the beating heart of an underwater DPV, supplying power to the underwater propulsion system and thus allowing the diver to move quickly and easily, even over long distances, without polluting the environment and disturbing the sea creatures that live in the water.
So it's only to be expected that Suex pays such close attention to the research and development of batteries for the underwater electrical propulsion systems of its DPVs, because every choice made regarding design and production, from the materials they are made from to the technologies used, has a direct impact on the diving experience.
It's necessary to constantly balance autonomy, weight, charging speed and performance, without neglecting the safety factor, which has always been our top priority; our efforts have produced two types of batteries that respond to different types of needs:
Lithium Ion Batteries, which offer extremely high autonomy, for divers who intend to make frequent, intense use of their DPV;
Nickel – Metal Hydride Batteries, which also guarantee excellent performance, but are less sensitive than Lithium Ion Batteries to long periods of inactivity, making them ideal for both frequent dives and dives with long gaps between them.
Another aspect we pay close attention to is the compatibility of the power system of the underwater scooter with the current regulations governing air transport.
There are many places with sea beds that offer incredible attractions, and flying is undoubtedly the quickest way; however, for the safety of the aircraft, a number of limitations are placed on the goods carried, and these can also regard DPVs. Specifically, the models fitted with Lithium Ion batteries, i.e. the VRX, XJS and XK, can only be transported as cargo, and weight and packaging restrictions apply, while the Nickel – Metal Hydride batteries installed on the VRT and XJT models can normally be carried on aircraft, although we recommend you download the technical specifications of the particular DPV from the website, and check the specific provisions and regulations before departure by contacting the airline. This makes these models a very attractive option for divers planning to travel all over the world in search of their next diving thrill.
Suex also offers two conversion kits for the models VRX and XJS, which allow you to replace Lithium Ion batteries with Nickel – Metal Hydride batteries.