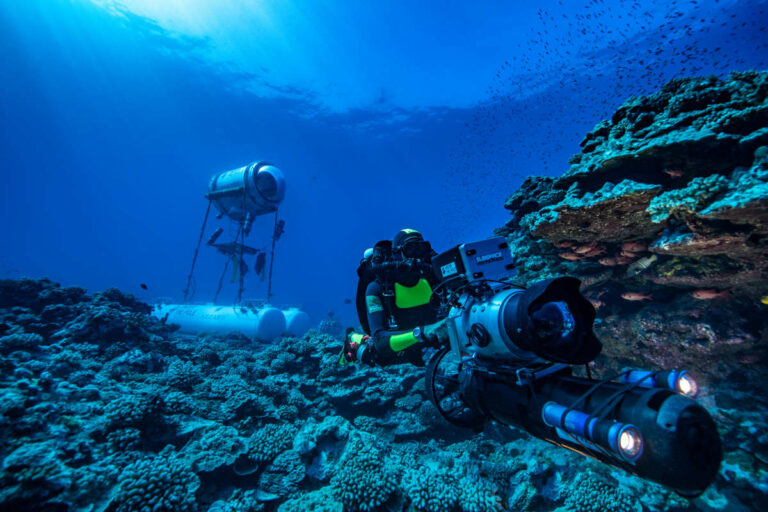 The irresistible attraction of exploration is the reason Suex came into being: since 2000, we've been offering diving aficionados and professionals a new way to enjoy their underwater adventures, with our DPV scooters, and we're constantly looking for opportunities to reveal the mysteries of the ocean, putting our technology to the test and pushing it beyond its limits.
Even today, 90% of the oceans remains unexplored: a huge marine environment that could tell us a lot about our planet, our future and ourselves. This is why many organisations undertake expeditions to discover what lies below the surface of the water, and Suex is in the front line to support their efforts, as in the case of Under the Pole.
Under The Pole is an organisation dedicated to broadening the scope of underwater exploration, thanks to an audacious approach and on-going innovation, with the ultimate aim of achieving a better understanding of the oceans, in order to protect them and to create a more sustainable world.
As the name of the organisation suggests, Under The Pole's speciality are polar dives, although the over 150 members are active anywhere they can pursue their three objectives:
To allow science to progress, with a particular focus on ocean science, polar systems and hyperbaric physiology, and to prepare for the environmental and social challenges of the present and the future;
To raise public awareness regarding ocean conservation;
To develop new tools for exploring the oceans, sharing techniques and protocols.
On the occasion of the United Nations Decade of Ocean Science for Sustainable Development, Under the Pole has launched a ten-year research programme called Deeplife 2021-2030, dedicated to exploring the mesophotic zone of the oceans, at a depth of 200 metres.
To carry out this task, Under the Pole has launched a new craft, the Why Not, which will operate as a cutting-edge research platform, with three missions already planned in Svalbard, the Canaries and the Caribbean, set to take place from 2022 to 2023.
Suex shares Under the Pole's desire for exploration, passion for the underwater world and ambition to innovate and promote ecosustainability, making us the ideal technological partner for the organisation.