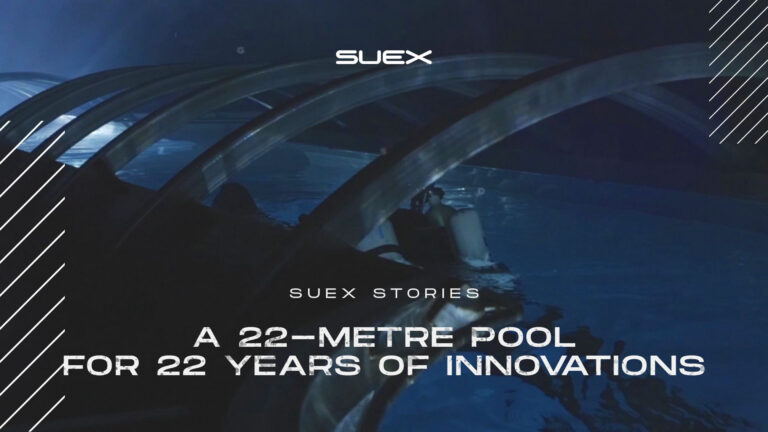 To offer the best diving experience possible, every day, for 22 years now, Suex has been endeavouring to fully understand how our DPV scooters behave underwater, so we can constantly improve their performance.
This means trusting the experience and intuition of professional divers, and providing them with the right environment in which to assess the equipment and test its limits.
The most effective way to conduct these tests is in a controlled environment, in which we can modify the conditions as we like, collect data with dedicated equipment and guarantee the diver's safety. This is why Suex has designed and built a pool for simulated dives at our headquarters.
This pool is the star of the new Suex Story, a celebration of its central role in the Suex Research & Development process, and thus in the on-going improvement in the technology of our DPV scooters.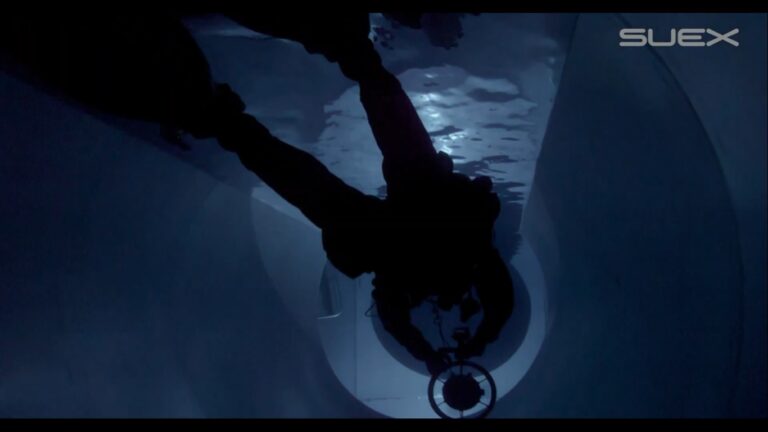 Play video
"We need to have the water here on our premises, because Suex works with water practically every day", explained Suex owner Marco Segatto.
However, creating a pool on the premises came up against rigid architectural limits, so some thinking outside the box was required to come up with a solution able to contain a large amount of water, yet be compatible with the limited space available.
"A cylindrical shape is ideal, because hydrostatic pressure is spread evenly – so why not make three large beakers linked by two tubes?" Marco Segatto went on to explain.
The final design of the pool reflected this idea: a central well with two vertical cylinders at either side, with the three structures connected to each other with passages that allow the divers to swim along the 22-metre-long pool endless times without ever stopping, and to perfectly test all the Suex vehicles.
This is how Mario Arena, an expert diver of the Society for the Documentation of Submerged Sites, and Roberto Rinaldi, a renowned photographer and cameraman specialising in underwater reportage, are able to test the latest technological inventions for diving.
Every day, these tests reaffirm the Suex philosophy. A DPV scooter is more than just a diver propulsion vehicle: it's a vehicle that can be equipped with everything required for intense emotions and amazing experiences, such as housings for cameras that usher in a new age for underwater filming, and powerful, futuristic, remote-controlled lights.
Thus, our 22-metre pool is a testament to Suex's 22-year history and approach to diving.